Business analysts are among today's market's most sought-after and in-demand professionals. This is due to the ever-increasing need for better and more efficient software solutions to help organizations cut costs, increase efficiency, and boost profits.
As a business analyst, you're tasked with helping companies create solutions to their problems. You'll work with various stakeholders to determine what they need, help them prioritize, and ensure they understand their needs before implementing a solution.
You may wonder, "How can I make a career out of this?" In this article, we'll explore the best career path for a business analyst.
Many people think they would love to work as a business analyst, but after spending years in the field, many have realized that they are often mislabeled and underpaid. There's a big difference between a "business analyst" and a "business consultant". The latter is better compensated and has greater career potential. As such, if you want to do work that makes a real difference, find out what it takes to be a Business Consultant and get the training needed to make your career in Consulting work for you.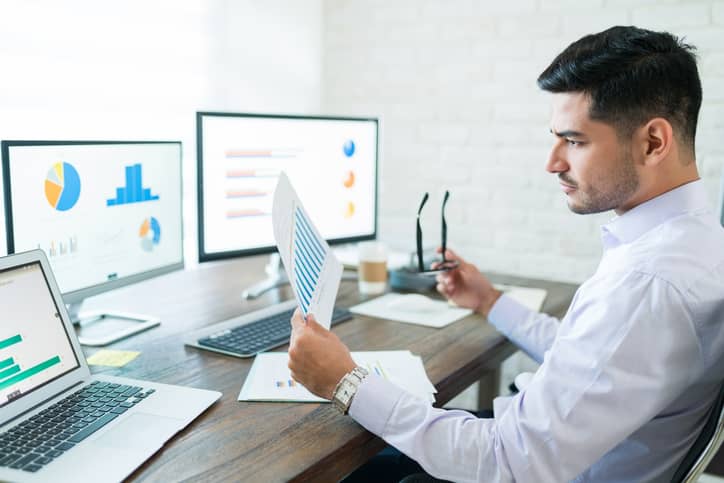 Who is a business analyst?
A business analyst helps companies develop and improve their services and products. Business analysts often work in teams or with a project manager. They may also work individually and in isolation, especially when researching new technology.
Business analysis is a role that requires you to be able to think critically and have a good understanding of different types of businesses. It's an important skill that will help you excel in this field.
What do you need to know about business analysis?
Business analysis is gathering information about a company's operations and implementing that information into strategic plans. It's a key part of developing a successful business plan, which is often the difference between a company being profitable or failing.
Business analysts are responsible for ensuring that their clients are given accurate information and that they understand all available options.
They also must ensure that the information provided is reliable and that any information gathered is accurate. If a client provides inaccurate or incomplete data, the business analyst may need to go back and collect the necessary information.
They must know the difference between fact and fiction to avoid the pitfalls that lead to incorrect decisions.
Business analysts are a jack of all trades, but their primary focus is gathering and understanding information.
How can you use business analysis skills?
Business analysis is a broad career path. However, business analysis might be a good option if you want to make a career change.
You'll ensure your company's operations function efficiently as a business analyst. This means you'll need to understand how business works and how the different departments within your organization interact.
While you might have thought that business analysis was limited to managing a company's finances, it is a diverse profession. You can work on various projects, from data management to customer service.
If you'd like to change your career, consider business analysis. You'll be able to use your business analysis skills to help small and medium-sized businesses grow while you work remotely and manage your own time.
Business Analyst Certification
As the name suggests, a certification is an official qualification in that a person has completed an assessment and achieved a certain standard of expertise. Business analysts often take courses and exams and earn certifications to show they have the skills to do their job well.
One course they may take is in marketing analytics. It's a course where you learn to use data to measure marketing performance. In this article, I will share some of my experience in marketing analytics, including some of the courses I took and some of the certifications I earned. I'm also going to share some of the advice I've gotten from experts in the field. I hope you find it helpful!
Certifications are a great way of showing employers that you are prepared and qualified to perform a particular task. Many types of certifications are available, from basic ones like the Certified Information Systems Security Professional (CISSP) to more specialized ones like the Certified Business Analysis Professional (CBAP).
I have frequently asked questions about Business analysts. 
Q: How should I prepare for my interview?
A: When I interview for a job as a business analyst, I first try to find out more about the organization by researching its website or contacting a representative. I also ask the interviewer what the company does, why they are hiring, and their goals. If they have an opening and want to fill it, I'll ask if any training is needed.
Q: How can I make sure I'm prepared for the interview?
A: I like practicing questions I've seen in previous interviews. You can also ensure you know what the organization looks like, what they do, and what makes them special.
Q: What should I do when I get the interview call?
A: You should be ready for the interview and be prepared to discuss yourself and the position. Tell me about your experience and why you are the best.
Top Myths About Business Analysts 
Business analysts don't do anything specific.

Business analysts don't work.
Conclusion 
As a business analyst, you will analyze business processes, design solutions for those processes, and develop information technology.
You will work closely with the application development team to help them create successful web applications and mobile solutions that meet business requirements. You will perform an analysis of existing systems and processes, as well as analyze new systems and processes. This includes analysis of existing data and new data, including Data from user interfaces and data from other systems. Data from third-party applications. You will also work on analyzing current processes and developing new ones or improving existing ones, including:
Business analysts work closely with business leaders and IT managers to determine the best way to organize an organization's information systems. They work with programmers to ensure that software functions properly and oversee the testing new programs.
Business analysts have many responsibilities, but most work in a corporate environment. The same company employs many business analysts for their entire careers.